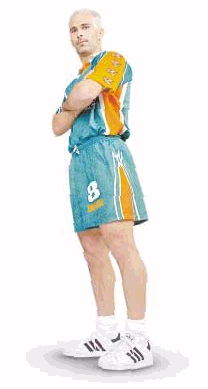 MARIANO BOLLELLA, MVP
La Raza midfielder is elected as the 2000 WISL MVP
Thursday, December 7th. Monterrey La Raza midfielder, Mariano Bollella was elected as the 2000 WISL Regular Season Most Valuable Player on the first award of such magnitude in the history of the Mexican franchise.
The designation was informed on Thursday by the WISL, which call the Head Coaches of the 7 teams to select the MVP of the current season.
Last Monday, Bollella was included in the WISL First team, as the best midfielder.
In his 2nd. season with La Raza, the Argentinian Player was there for La Raza in the important matches, scoring 27 goals & 22 assists for 49 points. Bollella was the 2nd best scorer of the league and third of the assist list. Plus, Bollella was the leader of Game-Winning Goals with 7, and the Hat-Trick Leader with 4 hats.
"I feel very happy and I'm grateful with all the coaches who vote for me", said the number 8 of La Raza.
"Also, I wanna share this award with all my teammates, because, thanks to their good performance, i get this award".
Mariano Bollella mencion that this award is dedicated for his son, Diego.
La Raza Head Coach, Erich Geyer also feels satisfied for the award.
"I think that, besides recognitizing Mariano's skills, he deserve it, no doubt about it..., it's an award for all the team's efforts, because without the labor of the whole team, a star cannot show his game at maximum capacity"